Last Updated 2022.01.07
Easy wheels cannot be attached to BROMPTON's M6R!?
Users who are watching the road bike life.
Happy new year 2022.
We look forward to your continued road bike life this year as well.
That's why it's the first story of the new year, but it's sad news for the owner of BROMPTON's CLINE Explore Mid With Rack (M6R). Hey, I feel like I should have something to say about the New Year, but I couldn't find any other material. For my BROMPTON, I replaced the head with Chris King at the end of the year and ended the old year with a good feeling, but at that time I received sad news at the LORO shop.
Easy wheels cannot be attached to M6R (with rack) outside the company
That's right. It seems that an external easy wheel cannot be attached to the body of my own BROMPTON CLINE Explore Mid With Rack (M6R). It seems that the easy wheel on the seat post side can be replaced, but the wheel on the tail side, that is, the rack side has a long screw length, so the screw for the easy wheel that comes outside the company is not enough. That's right. This was a shock to me. Actually, I was thinking about carefully selecting the easy wheel while exchanging the head parts for Chris King at LORO, and hopefully replacing the easy wheel after exchanging the head parts.
According to the details, there are some easy wheels that can be installed and some that cannot.
It seems that only BROMPTON genuine replacement large diameter easy wheels and Joseph Kuse's easy wheels are compatible with the easy wheels that can be installed. Other brands such as H & H, Multi S, RIDEA, etc. that have released custom parts for famous BROMPTON were Kinami NG. So for Easy Wheels, we'll either wait until the corresponding screws are released and ready to install, or install Joseph Kuse's Easy Wheels. However, I think the installation will be in the final stages of customizing.
Chris King head parts replacement
And the story goes back to the last custom story at the end of the year.
At the end of the year, I replaced the head parts with Chris King's Sottoboche. Chris King is a manufacturer of head parts and BB in the United States, and it is characterized by being durable, and because of its durability, it is often used in mountain bikes. Since BROMPTON is a sturdy bicycle that can be said to be a lifelong thing if it is one, Chris King's head parts are exactly like the manufacturer for BROMPTON. Chris King's head parts are available in two models, one with a clear logo and the other with a slightly understated logo, Sotto Boche, and several colors. Since the color of the body of BROMPTON is flame lacquer, I thought about making it red, but it was a little too sticky and the feet of the body were hardened with black parts in the black edition, so it became a safe choice. However, I chose black Sottoboche. When I exchanged it and looked closely, the logo was modest but not overly insisted, and the genuineness remained and I was familiar with it without pushing the custom to the front, so I think this was good.
Current custom status of BROMPTON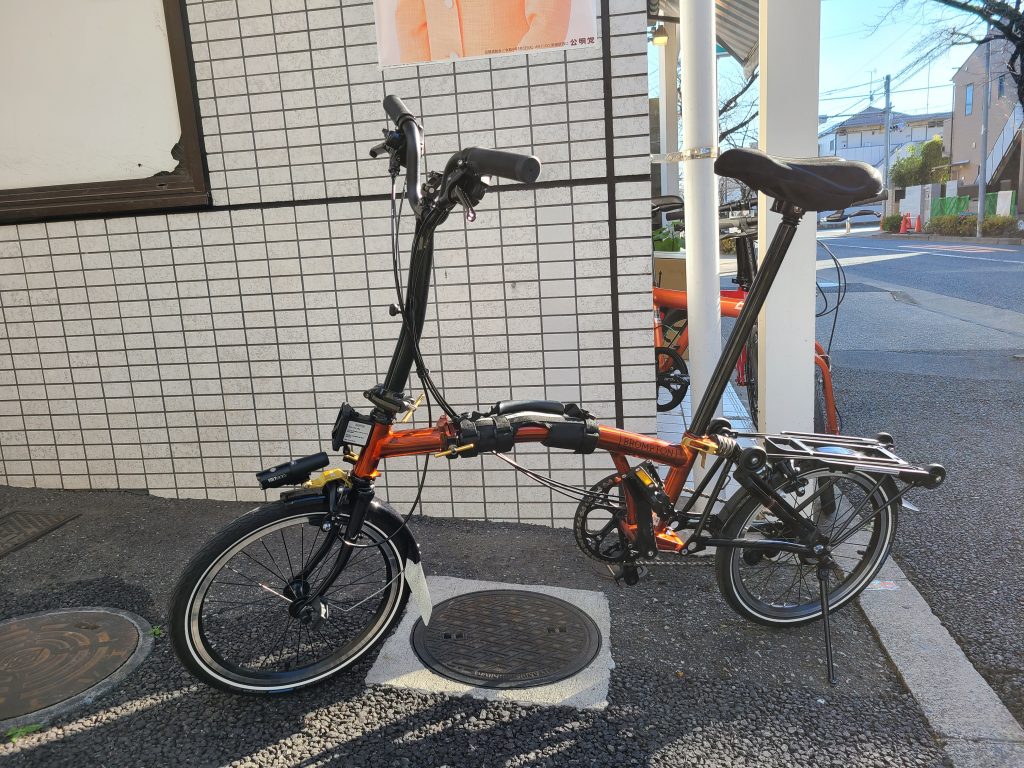 The current BROMPTON custom situation,
Trigo headlight mount
Trigo smartphone mount
Bronfication Hinge Clamp Set
H & H Seat Clamp / Rear Frame Clip Set
H & H Stem Catcher li>
Matsumura Koki Scrowave springs® for BROMPTON (Hard)
Unbranded frame guard and shoulder strap
Unbranded saddle cushion
Chris King Head Parts Sotto Boche Black
Bush & Mueller Tail Lights
Cateye VOLT800
Well, it looks like this. I was planning to customize it steadily, but various customizations are progressing, centering on small items. In BROMPTON, many screws and washers are used, and it is recommended to apply grease when installing parts, and I feel that the hurdles are high, such as having to prepare grease to customize it by myself. increase. In particular, it is recommended to apply grease to hinge clamps and seat clamps, so be careful.
Introduction of LORO Setagaya store
As you can see from Google Maps, Kinuta Park is a quiet shop that stands quietly in a residential area. The area called Yoga has been developed in front of the station and is full of new commercial facilities, but I wonder if LORO has a rich customer base as it is a quiet luxury residential area across a single road. It's easy to think that, but when I went inside, it was surprisingly small and cozy. Instead of lining up the bicycles outside the store, the store is quietly set up, so it feels like you might overlook it if you ride a bicycle. All LORO stores are BROMPTON premium dealers, and all types of test rides are available for each model, so if you want BROMPTON but want to try it first, please visit LORO Setagaya. In addition to Setagaya, LORO has stores in Nihonbashi and Yokohama, and these three stores are the main stores in the Tokyo metropolitan area.
The main store of the LORO shop is like the Osaka store, and I don't know the details, but I have stores in major cities, mainly in Kyoto, Fukuoka, Onomichi and western Japan. In addition to BROMPTON, we mainly handle foldable bicycles with small wheel bikes called mini velo such as carry me, birdie, tartaruga, and dolphin. And it is worth mentioning that the custom service, BROMPTON's metamorphosis custom (front double, etc.), birdie and carry me custom, etc. are also undertaken. Among them, the Kyoto store has a custom live distribution on the YouTube channel called LORO TUBE, and at the time of distribution, it is the hottest channel for bicycle custom, which is always watched by more than 50 people.
Future BROMPTON custom and meeting schedule
It is a custom of BROMPTON in the future, but the next custom schedule is scheduled around March.
Why is it so long? The LORO Setagaya store was busy with customs and delivery preparations from the end of the year to the beginning of the year, so it was around March that we could calmly discuss customs. I also don't want to ride a bicycle outside during the cold months of January and February, so I think it's just right. By then, I have time to think about the next custom plan, and I would like to think carefully about the next custom.
And then there is the BROMPTON meeting.
There is a BROMPTON meeting on the second Saturday of odd-numbered months at a facility called Tachikawa Sozosha. 2022 will be 1/8/3/12/5/14/7/9/9/10/11/12. The time is from 10:00 to 12:00
I don't think I can go on 1/8, but I would love to participate on 3/12 and 5/14. I'm a little worried if the custom will proceed by then.
Participation qualifications are BROMPTON owners, or those who do not have BROMPTON but are curious.
Details of BROMPTON Meeting in Tachikawa Sozosha are below.
The recommended way to get there is to head north on the Tamagawa Cycling Road, or from Tachikawa Station on the Nambu and Chuo Lines. BROMPTON makes it easy to travel around. I think there are many people who travel around and run by themselves from the nearest station. I plan to go north on the Tamagawa Cycling Road.
I wrote something that I thought was painful, but how was it?
Could you be interested in BROMPTON even a little? BROMPTON is really fun to customize, and it's fun to ride because it's a bicycle that runs better than I expected. How about the first one? It's hard to recommend, but it's definitely the second bike I can recommend. If you are interested, please go to the LORO shop near you.
And thank you for your road bike life again this year.