Last Updated 2021.01.29
I bought the L size of ortlieb saddle bag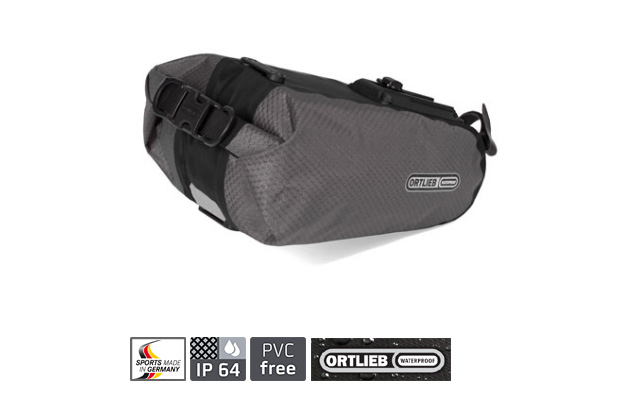 When I started riding road bikes, there was a time when I thought I would never put a big saddle bag on.
I thought that it was as light as possible and the saddle bag was cool, so I bought a micro of ORTLIEB saddle bag, and I was satisfied to put an articulated lock that can be carryed inside and gloves used for puncture repair.
When I learned about the world of Brevet and investigated various things about Brevet, the way of thinking collapsed more and more. It is impossible to finish the Brevet with such equipment. And now I'm trying to get the equipment ready for Brevet, but today the saddle bag arrived.
ORTLIEB Saddle Bag L Size Slate
Among bruvé riders in Japan, I bought the L size of the standard ORTLIEB saddle bag.
I have considered various things in my own way, but as a conclusion, it became an ORTLIEB.
First of all, I summarized the requirements necessary for saddle bags by combining my own concerns with completing the Brevet.
Essential equipment must be installed with the goal of completing the 200km burbe. Ring bag, rainwear, windbreaker, supplementation meal. Maybe a replacement tire and another tube, these will enter
Be waterproof
Cat-eye taillights are attached to the saddle seat rails with an optional adapter, so they can be installed in a way that does not interfere with the taillights.
The fixing method is easy and there is a fixing force at the time of fixing
Get lost in an Apidura saddlebag or or retrieve
If you make it a large-capacity saddle bag, it may be good to double as small in size, but I wanted to do something with the tail light attached to the saddle attached. While I was looking into it, I also knew about the existence of a super-large saddle bag called bike packing, and I really went right and left. In the end, I squeezed the saddle bag L size of the ORTLIEB I actually bought and the saddle bag regular of Apidura that can be compact from ultra-large capacity by removing the tail light.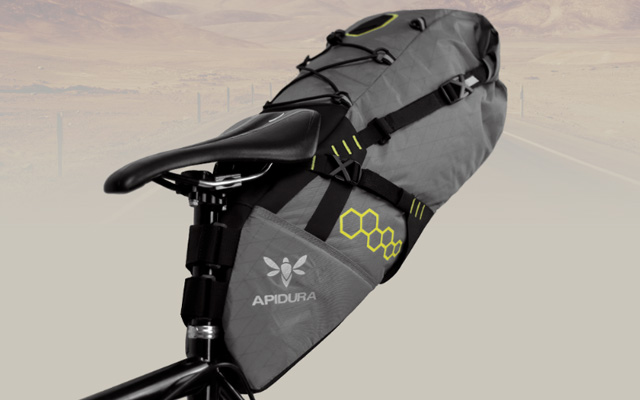 APIDURA Saddle Bag Regular 17.5L
Because it closes with the roll closure method, I thought that it was very easy to use because it folded up to about 6L if it was compact. Moreover, there is a draw cord at the top of the bag, so it is convenient to be able to easily fix wet rainwear and other windbreakers.
About 70% of them were inclined to Apidura, but I thought when I suddenly became calm.
Do you usually fix this saddle bag and run on a road bike? And.
I'm afraid of wanting things. I remembered the above requirements when I was a man who was willing to buy Apidura.
Apidura said it would be okay to finish the 200km Brevet before considering it. If I could finish the 200km Brevet, I would be confident going out for long-distance touring and overnight touring, and I thought that it would not be too late to consider purchasing after that time. Finally, I decided to purchase ORTLIEB saddle bag L size.
If you are interested in bike packing and are considering a large saddle bag, please refer to the above article.
ORTLIEB Saddle Bag L Size Review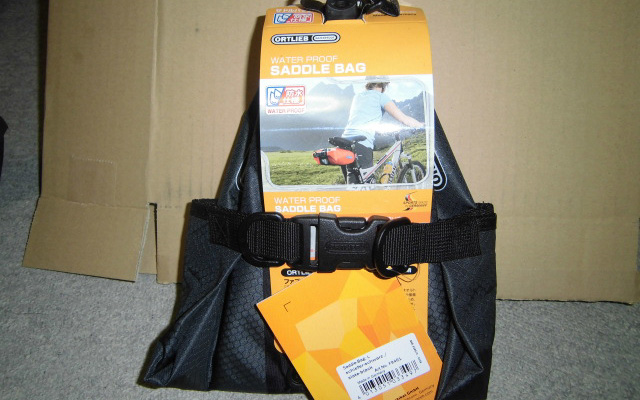 And it arrived today.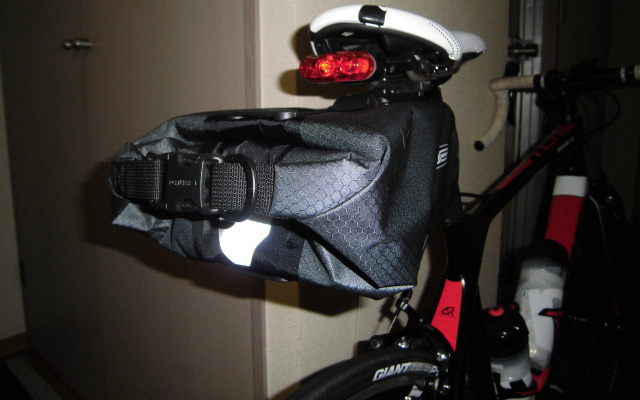 It is a photograph which I actually attached to my road bike.
As a sense of size, there is no sense of sticking out to the back than I thought. There are a lot of photos attached to the road bike when searching with the saddle bag of the ORTLIEB in the image search of Google, so there was an image of the size feeling of the road bike and the saddle bag to some extent, but there is no protrusion to the back than I imagined.
I wanted to install it so that the tail light can be viewed as shown in the third photo, so I am relieved that it is attached parallel to the ground so that the tail light can be safely viewed. Depending on the seatpost, the offset was intense, and there were quite a few pictures of road bikes that had to be attached diagonally to the seat rails, so I think that my road bike without seatpost offset was good to be able to install like this.
Replace and modify the screws on the ORTLIEB saddle bag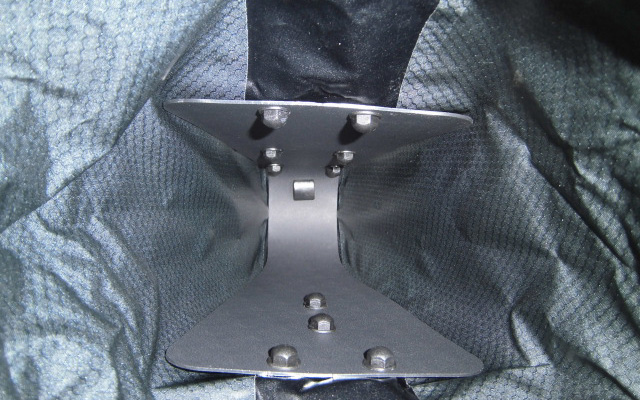 It arrives immediately, but I will remodel the saddle bag of the ORTLIEB. This is also something that I knew while searching the net, but as shown in the figure above, the saddle bag of the ORTLIEB has a big nut when you look into the contents. Because of this nut, a great amount of capacity has been spilled. This nut is replaced with a commercially available flat nut and remodeled.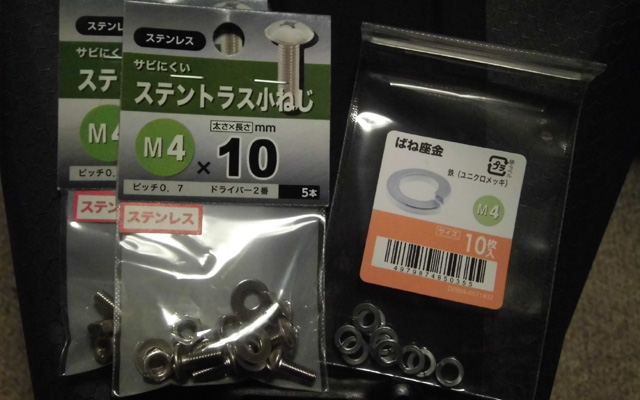 Screws, washers, nuts, and spring washers to be prepared.
Stainless Steel Truss Screws M4 × 10 mm (with Washers and Nuts) 10 Sets
Spring Washer M4 Size 10 pieces
The best is a flat lid screw, but I didn't put it at a home center in my neighborhood. So I'm on a truss screw. Stainless steel is a rust countermeasure when rainy weather is assumed. The spring washer is used to prevent loosening of screws.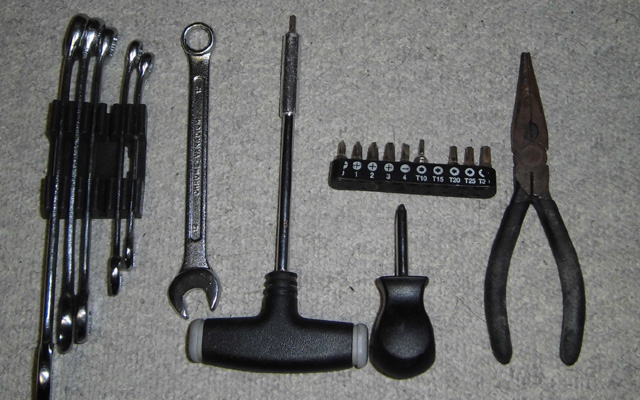 It is a tool to be used when remodeling next.
T15 Torx Wrench: Genuine ORTLIEB screws can't be used with Phillips screwdrivers. A T15 Torx wrench is required.
12mm box wrench or spanner: The nut with large bag contents is 12mm diameter. Now secure the nut and loosen the screws. Other than that, it can be substituted with radio pliers or monkey wrenches.
Phillips mini screwdriver: Used to tighten screws in the bag by replacing screws.
Radio pliers: When tightening the truss screw from the inside of the bag, use it when fixing the nut of M4 on the outside of the bag with radio pliers and tightening the screw.
I think that there are many people who do not usually have a Torx wrench. When I was riding a motorcycle, I bought a tool when I was doing maintenance myself, so I happened to have it.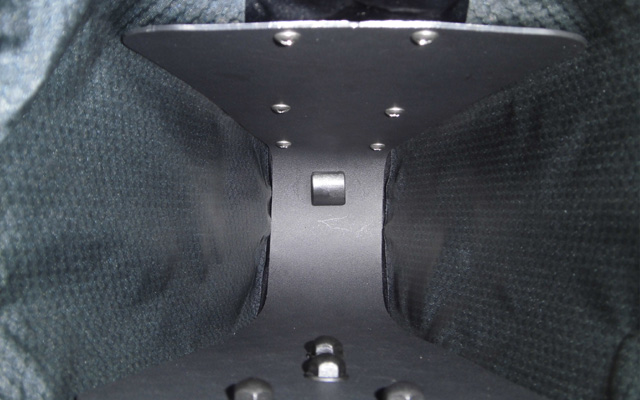 It is a photograph during screw replacement.
The top of the contents of the bag is replaced with a truss screw, and the bottom is a large genuine nut. By replacing this screw, I am worried whether it will leak water when running in rainy weather, but when I searched roughly on the net, the story that it leaked did not come out, so I will continue.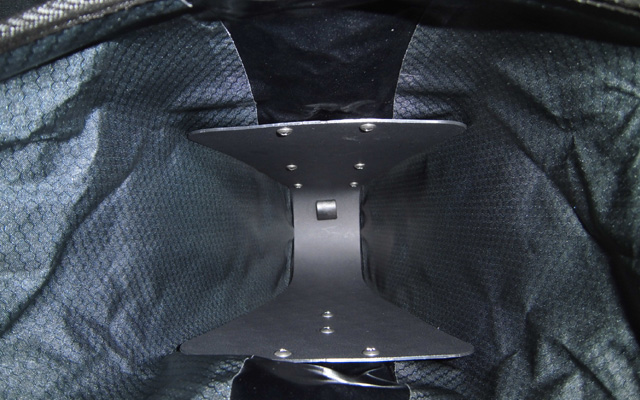 All 10 screws have been replaced. How does it feel to see it? Don't you think it's pretty clean?
For the time being, I tried to put a ring bag, gloves, and lock, but I was able to use up to the back of the bag, and things came to enter more than I imagined. With this, it seems that there is still room even if you put a windbreaker and rainwear.
If you finish 200km Brevet, I think this equipment is more than enough.
If you can participate in a Brevet that requires a nap of more than 400 km, in addition to this, towels and sleeping set (shampoo, beard sled, body soap) are likely to enter, assuming that you will take a shower at the time of nap.
Why does Brevet peak from January to June?
The peak season for Brevet is From January to June, but I have the impression that the replacement of thick jerseys for winter and early spring is a bit tight in terms of capacity.
The reason why Brevet is peak season from January to June is because there is a big event like the Olympics of Brevet called Paris-Brest Paris (PBP) once every four years, but that is because it is held in August.
In order to participate in PBP, it is not possible to participate unless you complete the 200km, 300km, 400km, and 600km Brevets from January to June of the PBP event year (because entry to PBP ends by the end of July).
Therefore, Brevet is held intensively from January to June.
When it comes to equipping for the peak season of Brevet, it is necessary to change the winter jersey and the thick jersey for early spring, so inevitably a bag with a large capacity will be needed.
Of course, my friends are wearing this ORTLIEB saddle bag as far as the video shows. Of course, when I was looking at the explanation serif scene of it, it was fun because there was something that was supposed to be a long ride. The anime was completed in 12 stories, but comics are still being serialized, so I'm looking forward to future developments.
So, those who are worried about choosing a saddle bag of Brevet.
If you are worried, it was a content that there is no mistake in ORTLIEB (ORTLIEB).